Redken Chemistry Hair Conditioning Treatments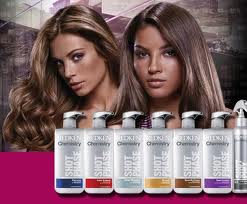 Additional Info:
An exclusive, professional in-salon service, Redken Chemistry offers intense, customized treatments for whatever your hair needs – whether it's moisture, color protection, strength, softness, control, or a combination of these benefits! Each treatment also has a corresponding take-home regimen so you can maintain the incredible results after you leave the salon.
Redken Chemistry is also great for distressed hair. Distressed hair is weakend hair that has been physically changed in some way. There are two key types of hair distress:
1. CHEMICAL DISTRESS: caused by overuse of chemical services such as haircolor, lightening, perming or straightening.
2. MECHANICAL DISTRESS: caused by normal wear and tear from blow-drying, curling and flat irons, and every day brushing.
Redken Chemistry offers intense customized treatments for whatever hair needs are. They are exclusively individualized for any hair types with specialized treatments and are called "Chemistry Phase Shots"
Chemistry Phase Shots are Availiable in Seven Formulas'
Redken Chemistry Shot Phase – All Soft Deep Treatment

For Most Dry and Damaged Areas of Hair where Softness is Wanted
Provides Softeness wheres its needed most.
Gold Camelina, Avocado Oil, and Olive Oil to Provide Intense Softness, Replenishment and Strength to Restore Silkiness and Shine.

Redken Chemistry Shot Phase – Clear Moisture Treatment

Treatment for Normal to Dry Hair
Specialized ingredients compensate for missing components in the hair.
Apricot oil, Glucosamine and Glycerin deliver intense moisturizer to replenish and re balance hair's moisture level.
Helps eliminate fly-aways to leave hair smoother and softer with reflective shine.

Redken Chemistry Shot Phase – Color Extend Deep Treatment

For Color Treated Hair
uses a concentration of ceramide, mineral ion blockers
UV filter helps defend hair color from fading

Redken Chemistry Shot Phase – Extreme Deep Treatment

Is a Booster for Distressed Hair
Formulated with more Proteins than any Extreme product
Extreme Shot is a concentrated protein dose that fortifies chemically distresses hair.
Wheat protein and wheat starch help reinforce the internal fiber and protect hair against heat damage.
A cationic surfactant targets the most damaged areas to give great surface conditioning without weighing hair down.

Redken Chemistry Shot Phase – Real Control Deep Treatment

Booster for Dense/ry/sensitized Hair
contains shea butter, protein, and cationic conditioners to lock in moisture and help repair hair to provide intense discipline, smoothing control, and strenghtening repair.

Redken Chemistry Shot Phase – Smooth Down Deep Treatment

has Macadamia oil, candelilla wax and cationic refiners tame unruly hair Provides increased manageability, intense smoothing and long-lasting frizz control.

Time Reset Filler Shot

For Porous, Aged-Weakened Hair
starts out as a liquid and then transforms to a solid creating a reconstructive network in the cortex that literally fortifies the hair from the inside out.
Redken's Chemistry System is a professional use treatment collection that adds shine and strength, seals the hair cuticle, and adds a brilliant gloss that lasts for at least three weeks! The Chemistry System is an "inside-out approach" to creating healthy, shiny hair. These professional-use only treatments offer intense, customized benefits for individual hair needs. In about 5 minutes, you can improve the quality of your hair. These advanced formula treatments provide immediate results after just one treatment. Complete your treatment with the prorper regimen of Redken Shampoo, Conditioner, and at home Treatment. Marilyn or Rachelle will be happy to assist you with the proper Redken regimen.